This week's issue of HSJ magazine is now available to read on our tablet app.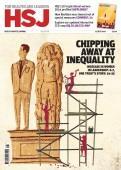 In this week's issue HSJ reveals the Care Quality Commission hired inspectors who failed recruitment criteria in 'flawed process'. Plus:
Clinical commissioning groups could be handed a role in commissioning a significant chunk of the £14bn specialised services budget
HSJ research finds there is slow progress towards appointing more women to senior NHS positions
NHS England has approved public consultation on a major reconfiguration of general surgery and emergency care at Greater Manchester trusts
A whistleblowing nurse has been awarded £80,000 for being unfairly dismissed after making protected disclosures over patient safety concerns
Clare Panniker discusses what her trust - Basildon and Turrock University Hospitals Foundation Trust - did to get out of special measures
To find the latest issue, simply navigate to "This week's issue" on the app, or tap on the cover image on the homepage.
HSJ's tablet app is free to download for both iPad and Android devices. iPad users can download it directly here, Android users will need to download it from the Google Play store.