This week's issue of HSJ magazine is now available to read on our tablet app.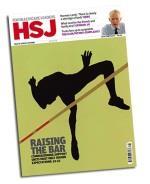 On the cover, we analyse commissiong support units' chances of survival and look at where they need to improve. Also in this week's issue:
We reveal a shortage of mental health beds; plus editor Alastair McLellan says radical action is needed to put mental and physical health on the same footing
In opinion, Neil Churchill and Toby Knightley-Day offer their assessments of the friends and family test
How a troubled foundation trust is using a leadership development programme to drive its turnaround
How social networks are making it easy to provide support for patients
To find the latest issue, simply navigate to "This week's issue" on the app, or tap on the cover image on the homepage.
HSJ's tablet app is free to download for both iPad and Android devices. iPad users can download it directly here, Android users will need to download it from the Google Play store.