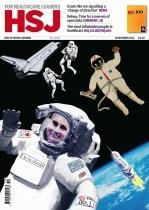 This week's issue of HSJ magazine is now available to read on our tablet app.
Please note: if iPad users have been experiencing difficulties with the app recently we recommend you delete it from the homescreen and download the latest version from www.hsj.co.uk/tablet-app
In this week's issue we reveal the most inluential people on health policy in 2013 in the HSJ100. Plus:
Two of the most powerful acute and tertiary trusts reveal their plans to move into primary care
CCG Barometer reveals local commissioning leaders' fears over pooled budgets
Simon Stevens will lead the NHS into a "transformational" new phase, says NHS England chair Malcolm Grant
Lord Darzi discusses solutions to the biggest challenge facing the global healthcare sector
Behind the scenes at the South West's successful pathology reconfiguration
To find the latest issue, simply navigate to "This week's issue" on the app, or tap on the cover image on thehomepage.
HSJ's tablet app is free to download for both iPad and Android devices. iPad users can download it directly here, Android users will need to download it from the Google Play store.