This week's issue of HSJ magazine is now available to read on our tablet app.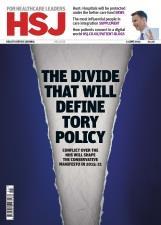 In this week's issue health secretary Jeremy Hunt tells the NHS Confederation conference that hospitals should not bear all the risks if investments made from the £3.8bn better care fund fail to reduce admissions. Plus:
A political consensus is emerging in support of pooling all NHS and social care funding
NHS England remains unclear about how to present trusts' nurse staffing data on NHS Choices, less than two weeks before it is due to publish the information for the first time
CCGs have set themselves ambitious targets to cut avoidable admissions and improve patient experience over the next five years
Bill Morgan examines Conservative Party tension, in the first of a series from political insiders in the lead up to the 2015 general election
To find the latest issue, simply navigate to "This week's issue" on the app, or tap on the cover image on the homepage.
HSJ's tablet app is free to download for both iPad and Android devices. iPad users can download it directly here, Android users will need to download it from the Google Play store.