This week's issue of HSJ magazine is now available to read on our tablet app.
On the cover this week, author Alexander Stevenson argues most management books are relevant only to private sector leaders. So he offers his advice for the particular challenges faced by leaders in the public sector. Plus:
Ciaran Devane says the NHS must exploit its brand power, and clearly communicate what it does
We learn about the True Colours mental health self-management programme, which patients have called a "godsend"
How Barts Health Trust has saved millions from its pacemaker and ICD bill
The 23-fold variation in CCG efficiency savings target
Editor Alastair McLellan on why general practice will thrive under closer scrutiny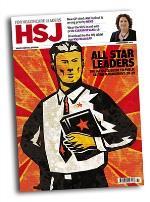 To find the latest issue, simply navigate to "This week's issue" on the app, or tap on the cover image on the homepage.
HSJ's tablet app is free to download for both iPad and Android devices. iPad users can download it directly here, Android users will need to download it from the Google Play store.