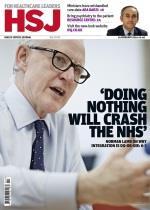 This week's issue of HSJ magazine is now available to read on our tablet app.
In this week's issue we examine the plans for hospital chain being discussed by senior national healthcare leaders. Plus:
The Department of Health acknowledges life expectancy at 75 fell in 2012 for the first time in many years
Norman Lamb on why integration is do-or-die for the NHS
Lord Darzi argues mining patient data will close the knowlegde gap between patients and the health service
Stafford Hospital's accident and emergency opening hours may have to be restricted due to staff shortages
To find the latest issue, simply navigate to "This week's issue" on the app, or tap on the cover image on the homepage.
HSJ's tablet app is free to download for both iPad and Android devices. iPad users can download it directly here, Android users will need to download it from the Google Play store.