This week's issue of HSJ magazine is now available to read on our tablet app.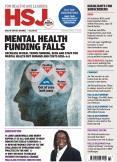 In this week's issue HSJ analysis reveals the funding, beds and staffing cuts affecting mental health trusts. Plus:
Sir David Dalton says some NHS managers could be "better used" through "hospital chain" models in an exclusive interview with HSJ
The Care Quality Commission recommends that East Kent Hospitals University Foundation Trust be placed in special measures
The chief executive of two ambulance trusts defends his ability to carry out both roles adequately
An academic health science network explains how it overcome obstacles to turn innovation into adoption
Lord Adebowale and Henry Kippin argue that collaboration, not liberation, is the key to enabling innovation
To find the latest issue, simply navigate to "This week's issue" on the app, or tap on the cover image on the homepage.
HSJ's tablet app is free to download for both iPad and Android devices. iPad users can download it directly here, Android users will need to download it from the Google Play store.