This week's issue of HSJ magazine is now available to read on our tablet app.
Please note: if iPad users have been experiencing difficulties with the app recently we recommend you delete it from the homescreen and download the latest version from www.hsj.co.uk/tablet-app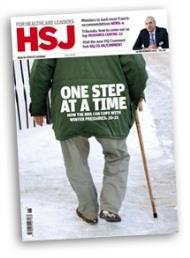 In this week's HSJ we exclusively reveal how the government is poised to accept the bulk of Robert Francis QC's 290 recommendations when it responds in full to his landmark report next week. Also inside:
More than £2bn of funding moved from locally agreed deals back onto tariff this year
Monitor suggests shake-up of primary care payments amid concerns about walk-in centre closures
Clinicians are not guilty of "deafening silence" over variations in quality of care
How system changes to emergency care were identified to tackle recurring winter pressure
Weighing up the risks of employment tribunals
To find the latest issue, simply navigate to "This week's issue" on the app, or tap on the cover image on the homepage.
HSJ's tablet app is free to download for both iPad and Android devices. iPad users can download it directly here, Android users will need to download it from the Google Play store.