This week's issue of HSJ magazine is now available to read on our tablet app.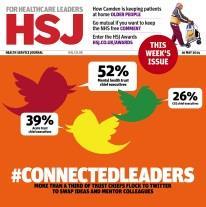 In this week's issue HSJ research reveals more than one third of health chiefs are actively using Twitter to engage with staff and the public. Plus:
NHS England warns of a challenging financial year ahead in an overview of the sector's finances
More than £650m a year of public health funding will be withheld from local authorities until the NHS increase health visitor numbers
Suspended South Devon chief Paula Vasco-Knight challenges the tribunal verdict
John Myatt discusses the importance of not rushing community care by looking at new types of contracts to move care out of hospital
Maternity services have been reborn because of 'social' innovations such as group appointments that are improving antenatal care
To find the latest issue, simply navigate to "This week's issue" on the app, or tap on the cover image on the homepage.
HSJ's tablet app is free to download for both iPad and Android devices. iPad users can download it directly here, Android users will need to download it from the Google Play store.