This week's issue of HSJ magazine is now available to read on our tablet app.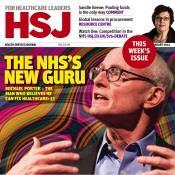 Please note: if iPad users have been experiencing difficulties recently with the app we recommend you delete it from the homescreen and download the latest version from www.hsj.co.uk/tablet-app
In this week's issue we interview Michael Porter, the Havard Business School professor who has been invited to Number 10 to share his "strategy that will fix healthcare". Plus:
Research shared exclusively with HSJ shows NHS productivity has grown for the two years
Mental health and community services trusts have accused Monitor and NHS England of "institutional bias"
Female medics lose out on clinical excellence awards
Sandie Keene argues that pooling funding is the only way to join up health and social care
Five lessons from around the world to improve the NHS's procurement bargaining power
To find the latest issue, simply navigate to "This week's issue" on the app, or tap on the cover image on thehomepage.
HSJ's tablet app is free to download for both iPad and Android devices. iPad users can download it directly here, Android users will need to download it from the Google Play store.