This week's issue of HSJ magazine is now available to read on our tablet app.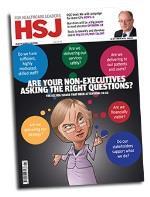 On the cover, we reveal the six questions that every non-executive director should be asking their organisation's board. Also inside:
CSUs are engaged in a "ritual dance" to find partners in networks to ensure their survival
Jill Maben of the National Nursing Research Unit says staff should be supported if they are to provide better patient care
Has Birmingham and Solihull Mental Health Trust found the right model for liaison psychiatry services?
Our roundtable this week tackles the tricky subject of competition law. Participants include David Bennett of Monitor and Ali Parsa
To find the latest issue, simply navigate to "This week's issue" on the app, or tap on the cover image on the homepage.
HSJ's tablet app is free to download for both iPad and Android devices. iPad users can download it directly here, Android users will need to download it from the Google Play store.