This week's issue of HSJ magazine is now available to read on our tablet app.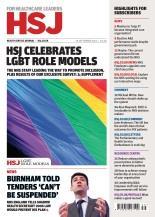 In this week's issue Labour rejects Simon Stevens' claim that NHS competition will require the commissioner-provider split to be "dismantled". Plus:
For the first time Monitor will help a foundation trust become a "full integrated care organisation"
Four of the five fast-tracked better care fund plans are aiming low on emergency demand cuts
A health information expert says "conflict of interest" undermines consultant level quality data
Elective and accident and emergency performance stalls
Kim Holt argues the slow response to the Rotherham child exploitation scandal exposes huge system failures
To find the latest issue, simply navigate to "This week's issue" on the app, or tap on the cover image on the homepage.
HSJ's tablet app is free to download for both iPad and Android devices. iPad users can download it directly here, Android users will need to download it from the Google Play store.