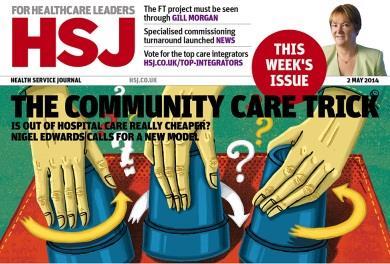 This week's issue of HSJ magazine is now available to read on our tablet app.
In this week's issue HSJ Nigel Edwards questions the recetn rehtoric on the virtues of community care and calls for a new model. Plus:
Being admitted to hospital a few hours later in the day often means patients spending several days longer on wards, according to new analysis shared with HSJ
NHS chief executive Simon Stevens sets out an alternative approach for the acute sector at the Commons health committee
The NHS has been given a reprieve from an estimated £500m tax bill
Chris Hopson and Dame Gill Morgan argue why the foundation trust project must be seen through
Robin Hewings and Barabra Young highlight ways to stop the the cost diabetes to the NHS reaching £17bn
To find the latest issue, simply navigate to "This week's issue" on the app, or tap on the cover image on the homepage.
HSJ's tablet app is free to download for both iPad and Android devices. iPad users can download it directly here, Android users will need to download it from the Google Play store.