This week's issue of HSJ magazine is now available to read on our tablet app.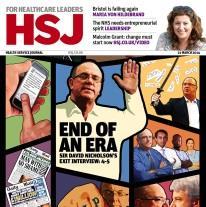 In this week's issue outgoing NHS England chief executive Sir David Nicholson identifies five system problems blocking change. Plus:
Monitor admits the special administration process at Mid Staffordshire Foundation Trust could cost £15m
Care Quality Commission chair David Prior says up to 30 hospital trusts could be placed in 'special measures' by the time it finishes inspecting the acute sector
Health secretary Jeremy Hunt backs Mid Yorkshire reconfiguration plans
Maria Von Hildebrand advises against going to Bristol Children's Hospital for heart surgery despite numerous reviews to improve the service
By listening to insights from patients, carers and frontline staff, compassionate commissioning can significantly improve local services
To find the latest issue, simply navigate to "This week's issue" on the app, or tap on the cover image on the homepage.
HSJ's tablet app is free to download for both iPad and Android devices. iPad users can download it directly here, Android users will need to download it from the Google Play store.