This week's issue of HSJ magazine is now available to read on our tablet app.
Please note: if iPad users have been experiencing difficulties with the app recently we recommend you delete it from the homescreen and download the latest version from www.hsj.co.uk/tablet-app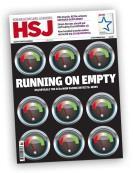 In this week's issue we exclusivley reveal the 24 clinical commissioning groups that expect to finish their first year in operation with deficits. Also in this issue:
The department of health wil make £150m in extra funding avaliable to A&Es this winter
In-depth coverage of the government's response to the Francis report
Serco seeks help from the NHS to fill vacancies
Rajan Madhok argues that new NHS England chief executive Simon Stevens should put staff safety first
HSJ Awards winners souvenir supplement
To find the latest issue, simply navigate to "This week's issue" on the app, or tap on the cover image on the homepage.
HSJ's tablet app is free to download for both iPad and Android devices. iPad users can download it directly here, Android users will need to download it from the Google Play store.