This week's issue of HSJ magazine is now available to read on our tablet app.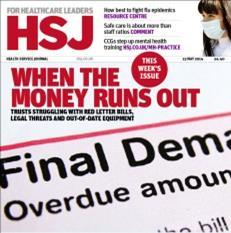 In this week's issue HSJ reveals that several hospital trusts applied for emergency loans last year to pay bills after suppliers threatend legal action. Plus:
The friends and family test is "unreliable", according to a new in-depth study
The NHS Trust Development Authority raises concerns about the number of trust chairs that have resigned in 2013-14
Monitor tells foundation trusts to resubmit overly optimistic financial plans
Michael West urges boards to look at what good leadership means in the NHS in order to inspire positive culture change
A project champions preparedness based on rigorous data analysis in the fight against flu epidemics
To find the latest issue, simply navigate to "This week's issue" on the app, or tap on the cover image on the homepage.
HSJ's tablet app is free to download for both iPad and Android devices. iPad users can download it directly here, Android users will need to download it from the Google Play store.