This week's issue of HSJ magazine is now available to read on our tablet app.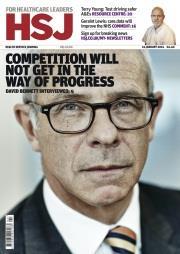 Please note: if iPad users have been experiencing difficulties recently with the app we recommend you delete it from the homescreen and download the latest version from www.hsj.co.uk/tablet-app
In this week's issue we interview David Bennett, Monitor's chief executive who says the regulator will be the "translator" between competition authorities and trusts during merger plans. Plus:
A "workforce IT management system" for NHS organisations will be developed as part of a £1bn government tendering exercise
A CCG backs down in procurement row, publishing commercially sensitive documents following a threat of legal action
Geraint Lewis says the NHS data systems upgrade is an opportunity o make the most of NHS information
Canada provides an alternative way to coordinate care for people with long term conditions in the UK
To find the latest issue, simply navigate to "This week's issue" on the app, or tap on the cover image on thehomepage.
HSJ's tablet app is free to download for both iPad and Android devices. iPad users can download it directly here, Android users will need to download it from the Google Play store.