This week's issue of HSJ magazine is now available to read on our tablet app.
In this week's issue HSJ analysis shows NHS England was set to blow its budget for specialised services by at least £450m in 2013-14 . Plus:
Many NHS and council leaders will assess the effectiveness of the better care fund with performance measures on dementia, falls and long term conditions
Reforms recommended by the Francis inquiry and Keogh review could cost healthcare providers up to £1.2bn, the Foundation Trust Network has said
Millions of pounds could be invested in the training and development of lower paid NHS staff
Nigel Edwards argues smaller hospitals still have a vital role to play in the future of acute care
We examines the implications of the NHS Atlas of Variation in Diagnostic Services on services across the health system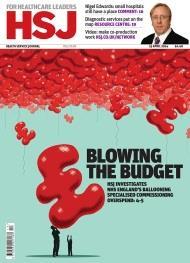 To find the latest issue, simply navigate to "This week's issue" on the app, or tap on the cover image on the homepage.
HSJ's tablet app is free to download for both iPad and Android devices. iPad users can download it directly here, Android users will need to download it from the Google Play store.