This week's issue of HSJ magazine is now available to read on our tablet app.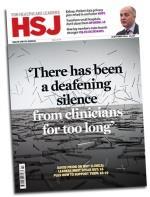 In this week's issue we take a closer look at the problems in clinical leadership. David Prior writes in Opinion that "there has been a deafening silence from clinicians for too long". Meanwhile in Resource Centre Liz Saunders of Hay Group calls for more rigorous management training for clinicians. Also inside:
Regulators forced to respond to the growing row over competition rules
Areas' share of £3.8bn health and care fund will be determined by progress in joint working
John Myatt, Ian Philp and others argue that small hospitals should form part of hub-and-spoke networks – not closed
Experts debate how get to grips with the problems bedevilling efficient procurement in our roundtable
And how have CCGs fared in their first six months in business?
To find the latest issue, simply navigate to "This week's issue" on the app, or tap on the cover image on the homepage.
HSJ's tablet app is free to download for both iPad and Android devices. iPad users can download it directly here, Android users will need to download it from the Google Play store.