This week's issue of HSJ magazine is now available to read on our tablet app.
Please note: if iPad users have been experiencing difficulties with the app recently we recommend you delete it from the homescreen and download the latest version from www.hsj.co.uk/tablet-app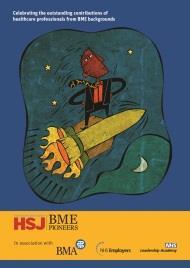 In this week's issue we exclusively reveal the shortfall of nurses needed to comply with new staffing guidance, with some hospitals providing a third less nursing care per occupied bed than their peers. Plus:
BME Pioneers: celebrating the people who have achieved excellence in their roles and championed inclusion in its broadest sense
Some patients could see delays to treatment as the waiting list for elective operations grows by 260,000 on last year
One hospital's ambitious plan to cut admissions by 12,000 within three years
The chief executive of the Office of Fair Trading rejects calls for changes in the law governing hospital mergers
Yvonne Coghill of the NHS Leadership Academy argues that well meaning BME initiatives have not fully understood the complexities of race and equality
To find the latest issue, simply navigate to "This week's issue" on the app, or tap on the cover image on the homepage.
HSJ's tablet app is free to download for both iPad and Android devices. iPad users can download it directly here, Android users will need to download it from the Google Play store.