This week's issue of HSJ magazine is now available to read on our tablet app.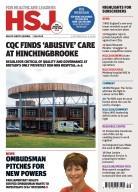 In this week's issue a letter from the Care Quality Commission criticises care quality and reveals a culture of "blame" at privately run Hinchingbrooke Hospital. Plus:
HSJ analysis reveals seven out of 10 trusts have been rated "requires improvement" or "inadequate" by the CQC
Andy Burnham outlines the new financial sustainability role for Monitor if Labour gets into government next year
NHS England reveals its the new area team structure
Parliamentary and Health Service Ombudsman Dame Julie Mellor calls for a new public services ombudsman to probe clinical commissioning group decisions
Bill Morgan explains why the Conservatives will not back down from a battle with Labour over the NHS
To find the latest issue, simply navigate to "This week's issue" on the app, or tap on the cover image on the homepage.
HSJ's tablet app is free to download for both iPad and Android devices. iPad users can download it directly here, Android users will need to download it from the Google Play store.