This week's issue of HSJ magazine is now available to read on our tablet app.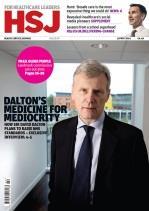 In this week's issue Sir David Dalton, who is leading a review on provider reform for the government, has spoken for the first time about what he thinks necessary in his review. Plus:
Health secretary Jeremy Hunt claims in an exclusive HSJ interview that the NHS can withstand the financial squeeze through new technology and safer care
Clinical commissioning groups in Leeds are in dispute with a private midwifery service, sparking calls for "urgent clarification" around commissioning rules
Commissioners on HSJ's Commission on Hospital Care for Frail Older People set out their aims
Alan Johnson urges the government to consider a new dementia road map to tackle the major health issue affecting one in three over 65
To find the latest issue, simply navigate to "This week's issue" on the app, or tap on the cover image on the homepage.
HSJ's tablet app is free to download for both iPad and Android devices. iPad users can download it directly here, Android users will need to download it from the Google Play store.