This week's issue of HSJ magazine is now available to read on our tablet app.
Please note: if iPad users have been experiencing difficulties recently with the app we recommend you delete it from the homescreen and download the latest version from www.hsj.co.uk/tablet-app
In this week's issue we look at why healthcare leaders increasingly see franchising as a solution to managing troubled trusts and spreading innovation. Plus:
The number of regulatory actions taken by Monitor against foundation trusts has doubled this year, HSJ analysis has found
Commissioners in Oxfordshire have forced to prepare a set of compromises to on their ambitious integrated contracting plans
"The debate over the role of the Office of fair Trading is a sideshow", says Bill Morgan
Highlights from the HSJ/Roche pathology conference in our special supplement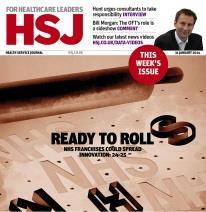 To find the latest issue, simply navigate to "This week's issue" on the app, or tap on the cover image on thehomepage.
HSJ's tablet app is free to download for both iPad and Android devices. iPad users can download it directly here, Android users will need to download it from the Google Play store.