This week's issue of HSJ magazine is now available to read on our tablet app.
On the cover, we feature Andy Burnham's plans to repeal the Health Act if Labour are elected in 2015. Also in this week's issue:
Research suggests delayed discharge is to blame for poor accident and emergency performance - not increased attendances or lack of doctors
Sean Duggan argues that calls to take the politics out of the NHS are mistaken
Lord Saatchi on why he has brought the Medical Innovation Bill
We get to grips with the changes at one trust's radiology deparmtment so it could do more with less
The collaborations converting research into practice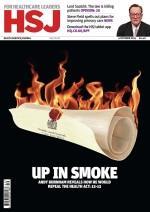 To find the latest issue, simply navigate to "This week's issue" on the app, or tap on the cover image on the homepage.
HSJ's tablet app is free to download for both iPad and Android devices. iPad users can download it directly here, Android users will need to download it from the Google Play store.