This week's issue of HSJ magazine is now available to read on our tablet app.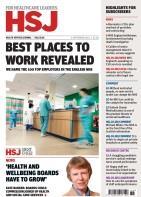 In this week's issue the exclusive HSJ CCG Barometer reveals the deficits that threaten hopes for radical reform. Plus:
Most CCG leaders are lukewarm about the prospect of merging or sharing health and social care responsibilities
NHS England appears to have ruled itself out of direct involvement in a baby death probe
Beefed up health and wellbeing boards could be in charge of commissioning health and social care
Monitor and NHS England propose reforms to emergency care as envisaged by the Keogh review
Nick Pearce argues that an NHS tax could be the catalyst to accelerate innovation
To find the latest issue, simply navigate to "This week's issue" on the app, or tap on the cover image on the homepage.
HSJ's tablet app is free to download for both iPad and Android devices. iPad users can download it directly here, Android users will need to download it from the Google Play store.