This week's issue of HSJ magazine is now available to read on our tablet app.
Please note: if iPad users have been experiencing difficulties with the app recently we recommend you delete it from the homescreen and download the latest version from www.hsj.co.uk/tablet-app
In this week's issue we focus on Pilgrim Hospital in Lincolnshire, which has turned its historically underperforming hip fracture service into one of the best in the country. Plus:
One of the largest and most ambitious attempts at integrated, outcomes based commissioning has ben delayed by two powerful trusts
Thirteen hospitals have higher than expected mortality indicator scores, according to a report by Dr Foster
Private providers are to be given access to the NHS pension scheme
An annual of mental health spending study has been axed by the Department of Health
Richard Humphries of the King's Fund assesses how health and wellbeing boards have performed this year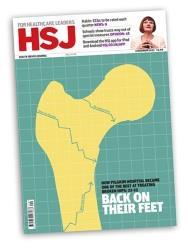 To find the latest issue, simply navigate to "This week's issue" on the app, or tap on the cover image on the homepage.
HSJ's tablet app is free to download for both iPad and Android devices. iPad users can download it directly here, Android users will need to download it from the Google Play store.