This week's issue of HSJ magazine is now available to read on our tablet app.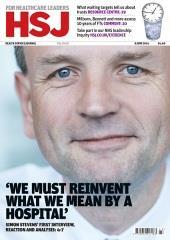 In this week's issue Simon Stevens, the chief executive of NHS England, reveals to HSJ that he is open to changes in structures and rules in his first major interview since taking post. Plus:
One-third of senior HR managers responding to HSJ's HR Barometer survey seek to curb salary rises
The future of £62m worth of funding for specialised treatments in various hospitals has been thrown into uncertainty after the Department of Health decided to stop funding it
Foundation trust leaders, their regulator and expert commentators discuss the progress and predictions for the 10-year-old FT project
Targeted action during the assessment phase in accident and emergency can reduce patient stays
To find the latest issue, simply navigate to "This week's issue" on the app, or tap on the cover image on the homepage.
HSJ's tablet app is free to download for both iPad and Android devices. iPad users can download it directly here, Android users will need to download it from the Google Play store.