This week's issue of HSJ magazine is now available to read on our tablet app.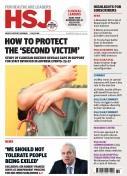 In this week's issue the Department of Health reveals the full scale of its bailout of trusts, spending £605m in "interim support". Plus:
The official timetable for clearing the backlog of planned care waiting lists may not be achievable, says NHS managers
Sir Robert Francis reveals his aim to stop the NHS "climate of fear" ahead of the review launch in an exclusive interview with HSJ
The Care Quality Commission reveals the trusts that have been "non-compliant" to quality standards for over two years
Controversial plans to downgrade Bedford Hospital appear to have been ruled out by the clinical commissioning group's chief clinical officer
David Oliver argues that the NHS must not listen modern myths and cliches being spread around the health service
To find the latest issue, simply navigate to "This week's issue" on the app, or tap on the cover image on the homepage.
HSJ's tablet app is free to download for both iPad and Android devices. iPad users can download it directly here, Android users will need to download it from the Google Play store.