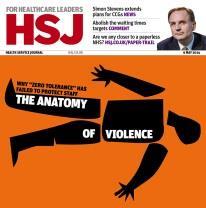 This week's issue of HSJ magazine is now available to read on our tablet app.
In this week's issue HSJ NHS England chief executive Simon Stevens has revealed further details of his plan to hand clinical commissioning groups a role in primary care commissioning. Plus:
HSJ analysis finds that almost three-quarters of clinical reference groups are yet to appoint a co-chair more than a year after they were established
Norman Lamb admits the Winterbourne View programme will 'abjectly fail' to meet its June deadline
New drugs have created the potential for the eradication of hepatitis C but the NHS must clear several hurdles to achieve this
Rob Finlay discusses how England is stuck with an unnecessarily complex and perverse system of waiting times targets due to the government's inaction
Research shows the impact of violence and aggression in emergency departments on staff morale and recruitment
To find the latest issue, simply navigate to "This week's issue" on the app, or tap on the cover image on the homepage.
HSJ's tablet app is free to download for both iPad and Android devices. iPad users can download it directly here, Android users will need to download it from the Google Play store.