Analysis for HSJ reveals the earnings of NHS staff groups − and the changes they have seen in recent years − as unions and NHS Employers clash over deciding next year's pay settlements.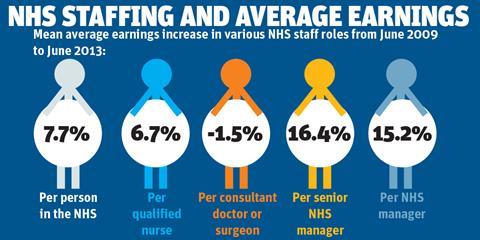 NHS staffing and average earnings
Latest figures show the pay of nearly all NHS staff groups fell behind inflation in the four years to June 2013.
NHS Employers has urged the independent pay review bodies to freeze pay next year, arguing that even a 1 per cent increase is unaffordable to the service and would add £500m to the NHS pay bill.
However, chancellor George Osborne has previously made clear he expects a 1 per cent pay rise next year, while healthcare unions are calling for at least a 1 per cent increase.
The British Medical Association has argued doctors deserve a rise in line with inflation.
The Health and Social Care Information Centre provided information to HSJ on the latest earnings information from the NHS electronic staff record. It showed the average NHS employee earned £30,660, representing an increase of 7.7 per cent since June 2009.
Nurses earned an average of £30,769 in the year to June, up 6.7 per cent since 2009.
However, analysis for HSJ shows that a quarter of all nurses earned less than £26,000 and that the median average − or middle point − of earnings was £31,500.
Hospital consultants earned an average of £110,198 in the year to June - a drop of 1.5 per cent since 2009.
A quarter of consultants earned less than £92,500, with median pay at around £110,000. A quarter of consultants earned more than £131,000.
Senior managers earned an average of £78,826 to June − a rise of 16.4 per cent since 2009. Less senior managers earned £49,207 in the same period − up 15.2 per cent.
However, the apparent increase in income may have been driven by large numbers of lower paid managers leaving the NHS in the past three years.
Support staff − who include healthcare assistants − earned on average £17,679, with a quarter earning less than £14,000. The median income was around £18,000.
According to information from NHS Employers, "incremental pay drift" − increases received by staff as they stay in the service and rise through pay bands − has seen the service's pay bill rise by 0.9 per cent each year, while pay was formally frozen by the government.
The average incremental rise in 2012-13 was 3.4 per cent, according to NHS Employers, with 55 per cent of staff on the Agenda for Change pay framework receiving an increment.
NHS staff have had to pay higher pension contributions in recent years. These are estimated to have grown by between 0.3 and 2.4 per cent of individuals' salaries in the past year, although NHS Employers consider pensions to be "deferred earnings".
Employers and unions last week submitted their cases to the NHS pay review body and the doctors' and dentists' pay review body, which will make recommendations to government early next year for changes in April.