The general election could be decided by Care Quality Commission ratings of seven hospital trusts, analysis by HSJ reveals.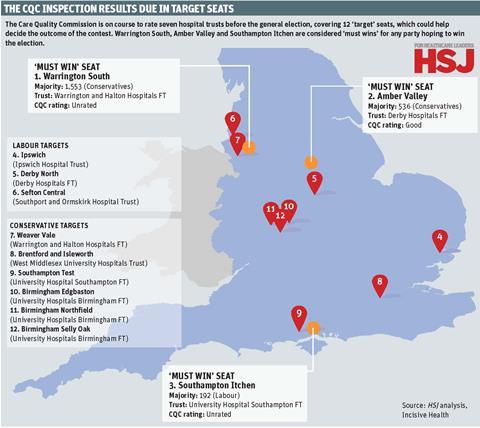 The regulator is on course to rate the seven trusts, covering constituents in 12 target seats, before polling day.
With the NHS one of voters' top priorities, the ratings and inspection reports could influence the results of local campaigns and help decide who forms the next government.
Last month the regulator published a list of 18 providers, on which it expects to publish inspection reports before 7 May.
The CQC, like all public bodies, is restricted from publishing certain types of information during the purdah period in the run-up to the election, but it will continue to publish inspection findings as part of its "business as usual".
Of the 18 providers it is inspecting, seven are acute trusts with catchments covering 12 "target seats" – constituencies with slim majorities which the two main parties are targeting.
Of the 12 constituencies, five are on the Labour target list and seven on the Conservative list.
With current polls between the two parties tight, 12 extra seats to the Conservatives or Labour could be the difference between being in government or opposition.
The CQC has already published inspection reports for Derby Hospitals Foundation Trust, West Middlesex University Hospital Trust and Ipswich Hospital Trust during purdah.
Derby Hospitals, which was rated "good" by the CQC, serves both Amber Valley where the Conservatives are defending a majority of 1.2 per cent, and Derby North where Labour's majority is 1.4 per cent.
Amber Valley is 11th on Labour's list of target seats and Derby North is seventh among the Conservatives' priorities.
Ipswich Hospital Trust, which also received a "good" rating, is located in a constituency where Labour is trying to overturn a Conservative majority of 4.4 per cent.
West Middlesex University Hospitals Trust was rated "requires improvement", which could influence the election battle in Brentford and Isleworth where the Conservative majority is 3.6 per cent.
The CQC is still to publish inspection reports for four other acute trusts which cover target seats:
Warrington and Halton Hospitals FT;
Southport and Ormskirk Hospital Trust;
University Hospital Southampton FT; and
University Hospitals Birmingham FT.
Some of the seats, such as Amber Valley and Warrington South, are considered "must wins" for any party hoping to form a government. In addition to being marginal, they are constituencies that historically tend to switch with a change in government.
Ben Nunn, account director of policy consultants Incisive Health, said: "The NHS is the number one issue on the doorstep of this election and prospective MPs will be all too aware of the political sensitively surrounding how a local hospital is performing.
"With many marginals on a knife edge, positive or negative news from a CQC inspection could have a significant impact on votes on 7 May."