Concern that Labour's plans for integrated health and social care would necessitate another NHS reorganisation will be tackled by shadow health secretary Andy Burnham during the key note session at next week's Commissioning Show.
The session will be chaired by HSJ editor Alastair McLellan and will also feature contributions from National Association of Primary Care chair Dr Charles Alessi and former House of Commons health committee chair Stephen Dorrell, in one of his first public appearances since unexpectedly stepping down from the role.
The Commissioning Show is being held 25-26 June at London's Excel exhibition centre. Andy Burnham will speak at 9am on 26 June, with the debate following directly after.
HSJ is once again the lead media partner for the Commissioning Show.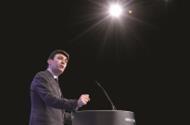 The conference and exhibition is aimed at all involved in commissioning and integration projects, and will inform delegates on subjects ranging from organisational development and governance advice, to approaches to commissioning for patients with long term conditions.
The conference programmes, include streams dedicated to CCG business, NHS England Local Area Teams and integrated care. Over 300 speakers will deliver legislation and policy updates, live debates, case studies and keynote sessions. The integrated care stream will draw these strands together, including topics such as "Is person centred care possible?", "Whole system innovations to tackle the A&E crisis", and "The better care fund – better for everyone?".
Passes are free for NHS and public sector teams, but they are limited and delegates must register in advance here.