More than a tenth of clinical commissioning groups have lost at least £10m of the funds originally earmarked for them for this year, HSJ has discovered.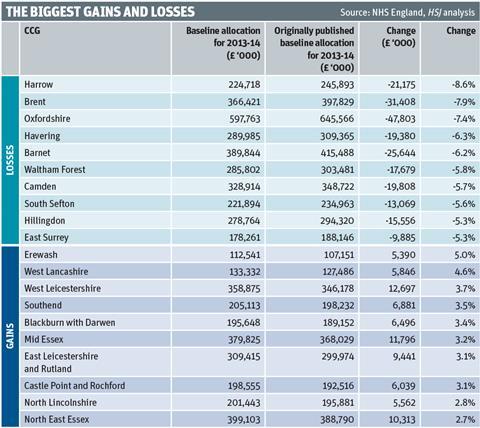 The biggest gains and losses
We compared CCGs' original baseline allocations for 2013-14, which were published in December 2012, with their final allocations, which were unveiled last month, revealing that the groups saw their allocation reduced by £612m over this period.
Harrow CCG saw the greatest proportional change in its allocation, losing 8.6 per cent of its funding in-year while the largest swing away from a CCG in cash terms was for Oxfordshire CCG, which lost £47.8m – 7.4 per cent of its original allocation.
More than a third of CCGs however saw their allocations rise in-year. Erewash CCG saw the greatest positive swing, with a 5 per cent increase compared to its original baseline.
Much of the swing is the result of CCGs having to transfer part of their original allocations to NHS England for the commissioning of specialised services.
In many cases, funds that should have been set aside for specialised commissioning were initially wrongly allocated to CCGs, and so had to be reclaimed by NHS England.
The original baseline allocations were also adjusted for other reasons, such as to redistribute funds between CCGs.
The effect on CCGs of the transfers appears to have varied widely, with those "losing" a large share of their original allocations not always reporting a negative financial impact.
In theory, allocation transfers to specialised commissioning should not affect a CCG's bottom line, because they should be matched by corresponding reductions in activity and cost.
For example, a spokesman for Harrow, Brent and Hillingdon CCGs, which all lost more than 5 per cent of their original allocations, said that because "the money returned to NHS England represented the CCGs' specialist commissioning activity… there has been no wider impact on their financial positions".
However, others believe the picture is more complex. David Cryer, chief officer of Camden CCG, told HSJ that while his organisation had not been disadvantaged, "the technical rules are not quite as black and white as 'this is specialised commissioning and this isn't'… matching the budget allocation and then the actual activity has been quite difficult".
A number of CCGs have gone further, claiming the amount of money lost has not matched the activity which has been taken from them.
Cambridgeshire and Peterborough CCG, which had a £4.7m (0.6 per cent) reduction in its baseline allocation, said it had "resulted in significant additional cost pressures" which had knocked it off their financial plan. The CCG went from reporting a small surplus in month five to predicting an end of year deficit following the transfer.
Likewise, Haringey CCG, which had an overall reduction of £11.6m (3.7 per cent), reported in recent governing body papers that "material errors" had resulted in a transfer of funding for specialised commissioning "considerably in excess of the expenditure in 2012-13", leaving a shortfall.
The wide range of reallocations experienced by CCGs nationally – from an 8.6 per cent 'loss', to a 5 per cent 'gain' – appears to be partly explained by differing interpretations of what constituted specialised services when budgets were transferred from primary care trusts.
London CCGs feature prominently among the CCGs which lost funding, because the initial allocation of funding understated the cost of commissioning specialised services in the capital by about £288m, the board papers of at least two CCGs reveal.
A spokesman for NHS England admitted that while areas of PCT expenditure, such as primary care spend, had been "relatively simple to disaggregate… the disaggregation of PCT contracts with providers into CCG and specialised commissioning activities was particularly complex". He added that although the originally published allocations were "significantly reviewed and refined in subsequent months", all adjustments were jointly signed off by NHS England and CCGs.