Several councils are planning to pool their entire adult care budget with the NHS in one of the biggest boosts to the integration of care between the two sectors to date, it has emerged.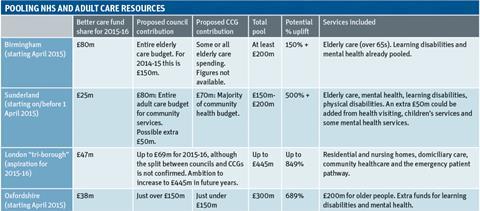 Pooling NHS and adult care resources
The plans - uncovered by HSJ's sister title Local Government Chronicle - would result in the value of the government's better care fund, designed to boost care integration, rising by up to 849 per cent in individual areas.
Birmingham City Council, Sunderland City Council and Oxfordshire County Council have all developed proposals to share their adult care funding with the health service, with CCGs adding to the shared pot.
The London "tri-borough" area - featuring Westminster City Council, Hammersmith and Fulham London Borough Council and Kensington and Chelsea London Borough Council - is planning to take similar steps, over a longer time period.
It is understood that the Department of Health is not yet aware of the councils' plans, which are due to be submitted to NHS England by next Friday, the deadline for draft submissions under the £3.8bn fund.
Under the fund - details of which were outlined in December - councils and CCGs must share a £3.8bn pot - about 3 per cent of total health and care spending - and work together to protect social care and reduce hospital admissions.
Although each area has received an indication of how much it could receive under the fund, NHS England, the DH, the Local Government Association and the Department for Communities and Local Government could force them to reconsider their plans. Experts told LGC up to a third of areas were likely to be told to reconsider.
Peter Hay, strategic director for adults and communities at Birmingham City Council, said: "We looked at [the fund] and thought we can't see how you can just have a bit of a pool. It's all in or all out. So we offered to add in all the money the council spends on older adults."
Three CCGs - Birmingham CrossCity, Birmingham South Central and Sandwell and West Birmingham - have agreed to add some of their elderly care spending to the pool after carrying out a potentially complicated "disaggregation" process to establish how much they spend on over 65s.
Barbara King, clinical accountable officer at Birmingham CrossCity, said: "To deliver the outcomes we want, we must ensure we have adequate services in community settings.
"We think pooling or aligning whole budgets is potentially the easiest way to make the necessary whole system changes."
In Sunderland, an agreement between the council and its CCG, which shares the same boundaries, will see a better care fund pool worth £25m increased to at least £150m, and possibly £200m.
Neil Revely, director of health, housing and adult services at Sunderland City Council, said: "We asked ourselves whether we could achieve what we wanted just by setting up an extra scheme here and there and we decided we couldn't, we had to go the whole way."
The council will add its £80m budget for adult care community services to the pool. It could also add an extra £50m for mental health services, health visiting and other children's services.
In Oxfordshire, a plan to pool elderly care spending between the council and CCG would take the value of its pool from £38m to £300m. John Jackson, the council's director of adult services, said: "The rationale was that this was the best way to reduce demand for complex social care packages and long term care placements."
Each area's plans are subject to final approvals before being submitted later this month.
Richard Humphries, a senior fellow at the King's Fund, said: "It's heartening to see places being ambitious and it does demonstrate that local government is putting good faith in the purpose of the fund.
"The idea has always been that sharing 3 per cent of spending would be a stepping stone towards sharing 100 per cent. And if Birmingham can do it, it would augur well for everyone else, because in Birmingham they've got scale and complexity to contend with."
The new wave of authorities sharing their funds comes several years after social care budgets were pooled with NHS money in areas including Herefordshire, Blackburn with Darwen, North East Lincolnshire and Torbay.