Hospitals in the East Midlands are struggling to meet new clinical standards for seven day services even during normal weekday hours, according to a region-wide analysis.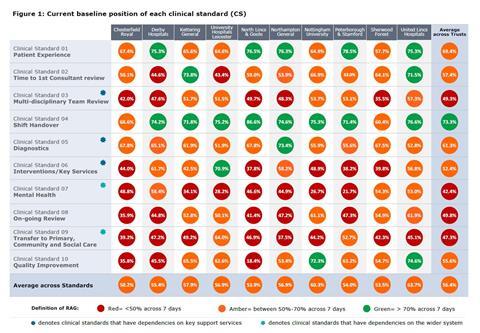 Ten East Midlands trusts are facing "significant challenges" to meet seven day standards
Clinical senate estimates cost of seven day services is double previous prediction
Ensuring a seven day NHS is a key pledge of the Conservatives
The report by the East Midlands Clinical Senate also estimated the cost of achieving a seven day service across trusts in the region could be more than double previous calculations.
The document, seen by HSJ, said achieving the NHS England mandated standards was a "significant challenge during core hours" for the region's 10 acute trusts. It said this became more difficult out of hours and at weekends.
NHS England published 10 clinical standards for seven day services in December 2013 with trusts required to meet five by the end of April next year and the remainder by April 2017.
The clinical senate concluded it would be "unsustainable and potentially unnecessary" for all trusts to deliver all services seven days a week. Instead it suggests:
region-wide workforce planning and contracts;
changes to payment systems; and
hospital reconfigurations to ensure trusts are capable of delivering to the required standards.
It described "the moral case for change" as clear, adding: "Irrefutable evidence has been provided that proves the NHS needs to move to a seven day services model. What is not so clear is what that model is. The engagement of health professionals through this project has started to shape conversations about how seven day services can be achieved. It is the beginning of the acceptance that things need to change."
Trusts and commissioners need to agree changes to payment systems, the senate suggested, in order to share risk and provide necessary upfront investment.
The senate recommended greater use of non-medical staff such as advanced nurse practitioners, as well as changes to the way staff work, including advertising jobs as East Midlands-wide roles.
It said working collaboratively would "enable existing staff to work more easily across acute organisation boundaries when needed, facilitating more 'East Midlands clinical pathways' that share resources (as well as technology and standard processes)".
The senate said without organisational change it was unlikely trusts would be able to deliver seven day services. It said the "likely solution to ensure provision of sustainable service models will be to centralise, reconfigure or network".
The report, finalised in December, estimated the cost of implementing a seven day service for the 10 trusts could be as high as £179m.
This is more than double the estimate of the Healthcare Financial Management Association, which said costs could be up to 2 per cent of turnover – the equivalent of £81m across the 10 trusts.
Five of the trusts predicted they would need 679 additional full time equivalent staff to deliver seven day services, including 182 allied health professionals, 168 consultants and 54 nurses.
The Conservative Party has made seven day NHS services one of its general election manifesto pledges. In an interview with HSJ last month, health secretary Jeremy Hunt said extending weekend working could help the NHS meet rising demand for operations, rather than being an additional cost pressure. He indicated there would not be extra funding beyond the party's promised real terms increase of at least £8bn to pay for seven day services.
A baseline assessment by the clinical senate of each trust's performance against the 10 clinical standards across a seven day week found none achieved higher than 64 per cent compliance (see table, above). Eight trusts achieved 50-58 per cent compliance.
Two trusts, Chesterfield Royal Hospital Foundation Trust and Northern Lincolnshire and Goole FT, failed to achieve at least 50 per cent compliance in six of the 10 standards across a full week. Nine trusts' compliance was lower than 50 per cent for more than one standard.