For 36 years the HSJ Awards, have recognised, celebrated and promoted the finest achievements in the NHS, and showcased them to the service's most influential leaders.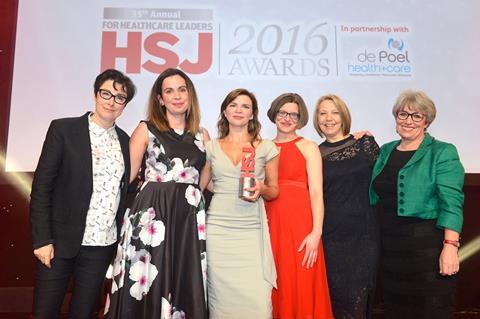 Innovation in mental health award winners 2016
Over that time they have grown to become the most sought after accolade in British healthcare – and very probably the largest awards programme of its type in the world.
With 22 categories to choose from, the awards reflect the full spectrum of the NHS's services and challenges.

Every year, HSJ Awards winners tell us that the recognition has given a huge boost to their teams and organisations.
They say it has enhanced their projects, raised morale and helped with securing backing and finance. The awards highlight examples of outstanding practice and innovation that help to safeguard and improve patient care. They inspire other organisations up and down the country like no other event.
This year, like every other, the challenges facing the service become fiercer. Following the Carter review, there is more emphasis on efficiency than ever before, while staff retention and motivation has become ever more demanding. Pair these challenges with that of delivering better quality of care on a tightened budget and developing new care models and the example set by the HSJ Awards is more important than ever.
The 2017 HSJ Awards will benefit from a new venue which will showcase the excellence of entries to even greater better affect and we have a number of other changes planned which will maximise the impact of the awards and its winners.
HSJ Awards 2017
Partnered with de Poel Health + Care InterContinental O2, 22 November 2017 awards.hsj.co.uk #HSJAwards
Categories this year include:
Acute Sector Innovation
Acute, Community and/or Primary Care Services Redesign
CCGs Commissioning for Carers – sponsored by NHS England
Chief Executive of the Year
Clinical Commissioning Group of the Year
Clinical Leader of the Year
Clinical Research Impact
Compassionate Patient Care
Enhancing Care by Sharing Data and Information – sponsored by NHS Digital
Improved Partnerships between Health and Local Government
Improving Care with Technology
Improving Environmental and Social Sustainability
Improving Outcomes through Learning and Development
Innovation in Mental Health
Patient Safety – sponsored by GS1
Primary Care Innovation
Provider Trust of the Year
Proactive implementation of supported self care – sponsored by NHS England
Specialised Services Redesign
Staff Engagement
Using technology to Improve Efficiency – sponsored by de Poel Health+Care
Workforce
For information on entering, please contact Ryan Saunders on 020 3033 2606 or email him at ryan.saunders@emap.com . Should you be interested in sponsoring the event, please contact Jason Winthrop on 020 3033 2922 or jason.winthrop@emap.com