World class commissioning will require an international perspective on health and well-being. It is not enough for PCTs and SHAs to compare similar organisations in England or even the UK.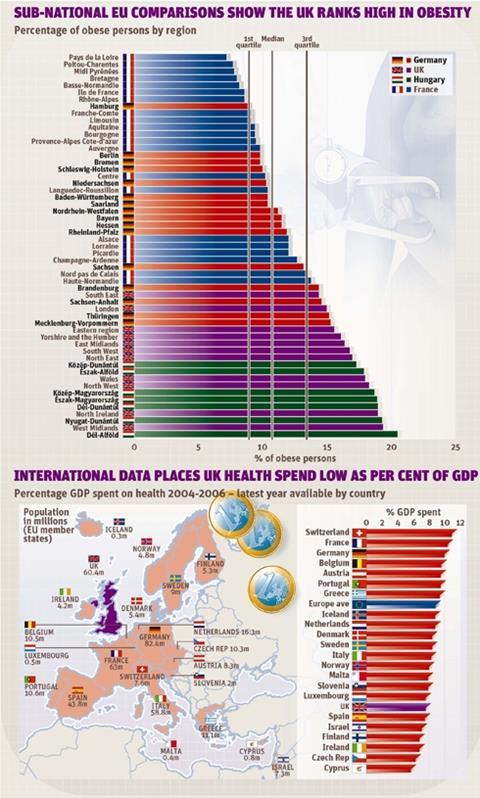 Apart from general interest, commissioners need to know how their population statistics stack up in an international context. And important lessons can be learned from international experience. For example, why does the Netherlands have such a low teenage pregnancy rate, and why aren't more French people obese?
Most comparisons of health are made at a national level by the World Health Organisation and Organisation for Economic Co-operation and Development. Available international data is frequently limited to mortality and economics, and is often not timely.
The data from our closest neighbours in Europe is more interesting. It is collated for the EU by Eurostat, whose website has a wealth of information. However, Europe is a community of small states with only six large countries (Germany, France, UK, Spain, Italy and Poland). Many have populations smaller than the English regions, and 14 have less than 10 million people.
Therefore, the large countries need to make comparisons at sub-national levels to make them meaningful. France has an advantage over England because it has not made major changes to its departmental structure since the days of the French Revolution. Reorganisation in England has been more frequent, which makes it challenging to compare sub-national data.
The North East public health observatory represents the UK in developing sub-national indicators - the reports are available on the Eurostat website. We have looked, for example, at obesity at a sub-national level, and the first graph shows levels across some regions of Europe. The obesity problem in the UK - England, Scotland, Wales and Northern Ireland - are only exceeded by Hungary (and Malta).
Standardised data collection by Eurostat for sub-national levels is of little use in England because it relates to boundaries that have long since disappeared. However, as the Association of Public Health Observatories network, we are co-operating with other countries to develop a new system. This will lead to a more accessible and meaningful routine dataset of health and well-being across Europe.
For more information go to www.apho.org.uk and www.ec.europa.eu/eurostat