Download the app to your iPad or Android device
HSJ's new tablet web app means Android and iPad users can access our award-winning journalism on the move. The app features the latest issue of the magazine and all the top content from hsj.co.uk.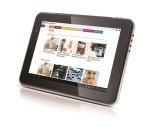 iPad users can download the app directly by navigating to www.hsj.co.uk/tablet-app on their device (Safari required). Android users should download it from the Google Play store.
The app is free to download but for unlimited access to the stories you will need to sign up to HSJ's Leadership or Digital subscription package.