The shortlist has been unveiled for the 2013 HSJ Awards.
The shortlisted organisations, chosen from a record number of entries, will now make presentations to judging panels made up of 85 influential figures from the health sector.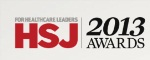 The awards will be presented on 19 November at the Grosvenor House Hotel, London. Tickets to the event are available here.
The HSJ Awards are the most prestigious and coveted awards in UK health, bringing together the best of the sector for a glittering evening of recognition, celebration and networking. With 22 categories the awards champion best practice and innovation to overcome the challenges which face the health sector today.
HSJ editor Alastair McLellan said: "I am delighted to announce the shortlist for the HSJ Awards 2013. Being shortlisted means that your organisation has been specifically chosen as a leader in innovation and best practice."
HSJ Awards shortlist 2013
Acute Sector Innovation
Chelsea and Westminster Hospital Foundation Trust
East Midlands Ambulance Service NHS Trust
George Eliot Hospital Trust
Liverpool Women's Foundation Trust
Norfolk and Norwich University Hospitals Foundation Trust
Portsmouth Hospitals Trust
Salisbury NHS Foundation Trust
The Royal Liverpool and Broadgreen University Hospitals Trust
Board Leadership
Avon and Wiltshire Mental Health Partnership Trust
Erewash Clinical Commissioning Group
Northumbria Healthcare Foundation Trust
Southern Derbyshire Clinical Commissioning Group
Southern Health Foundation Trust
The Clatterbridge Cancer Centre Foundation Trust
University College London Hospitals Foundation Trust
West Cheshire Clinical Commissioning Group
Chief Executive of the Year
Jo Cubbon, Taunton and Somerset Foundation Trust
David Dalton, Salford Royal Foundation Trust
Andrew Foster, Wrightington, Wigan and Leigh Foundation Trust
Lynda Hamlyn, NHS Blood and Transplant
Dr Peter Homa, Nottingham University Hospitals Trust
Dr Anthony Marsh, West Midlands Ambulance Service Foundation Trust
Dr Liz Mear, The Walton Centre Foundation Trust
Andrew Morris, Frimley Park Hospital Foundation Trust
Paula Vasco-Knight, South Devon Healthcare Foundation Trust
Clinical Commissioning Group of the Year
Bradford City Clinical Commissioning Group & Bradford Districts Clinical Commissioning Group
Newark and Sherwood Clinical Commissioning Group
Sandwell and West Birmingham Clinical Commissioning Group
South Cheshire Clinical Commissioning Group
West Cheshire Clinical Commissioning Group
West Leicestershire Clinical Commissioning Group
Clinical Leader of the Year
Dr Sreeman Andole, Barking, Havering and Redbridge University Hospitals Trust
Dr Samantha Barrell, South Devon and Torbay Clinical Commissioning Group
Carole Clive, Worcestershire Health and Care Trust
Dr Mark Coleman, Plymouth Hospitals Trust
Dr Andrew Curran, Lancashire Teaching Hospitals NHS Foundation Trust
Dr Clare Gerada, Royal College of General Practitioners
Professor Simon Kay, The Leeds Teaching Hospitals Trust
Vanessa McDonagh, University Hospitals Coventry and Warwickshire Trust
Dr Miten Ruparelia, Corby Clinical Commissioning Group
Dr Alexandra Wu, Royal Free London Foundation Trust
Clinical Research Impact
Alder Hey Children's Foundation Trust
Barts Health Trust
Bristol Clinical Commissioning Group
Coventry and Warwickshire Partnership Trust
Leicester Diabetes Centre
Royal Berkshire Foundation Trust
Salford Royal Foundation Trust
Sussex Partnership Foundation Trust
University Hospitals Birmingham Foundation Trust
Wrightington, Wigan and Leigh Foundation Trust
Creating Sustainable NHS Providers
empath (partnership between Nottingham University Hospitals Trust & University Hospitals of Leicester Trust)
Guy's & St Thomas' Foundation Trust – Increasing theatre throughput
Guy's & St Thomas' Foundation Trust with Janssen Healthcare Innovation and Deputy Synthes – Care4today
Nottingham CityCare Partnership
Southern Health Foundation Trust
Enhancing Care by Sharing Data and Information
Advancing Quality Alliance (AQuA)
Basildon and Thurrock University Hospitals Foundation Trust
Cambridge University Hospitals Foundation Trust
East Midlands Ambulance Service Trust
NHS Blood and Transplant
North of England Commissioning Support Unit
University Hospitals of Leicester Trust with Nervecentre Software
West Middlesex University Hospital Trust
Improved Partnerships between Health and Local Government
Calderdale and Huddersfield Foundation Trust
Care Plus Group
City of Bradford Metropolitan District Council
East Midlands Ambulance Service Trust
London Borough of Tower Hamlets
Sheffield City Council & Sheffield Clinical Commissioning Group
Stockport Foundation Trust
Surrey County Council
Walsall Clinical Commissioning Group
Wirral Community Trust
Improving Care with Technology
Anoto
Basildon and Thurrock University Hospitals Foundation Trust
Chelsea and Westminster Hospital Foundation Trust
Cornwall Partnership Foundation Trust
Derbyshire Healthcare Foundation Trust
NHS Blood and Transplant
Norfolk and Suffolk Foundation Trust
St Helens and Knowsley Teaching Hospitals Trust Health Informatics Service
Birmingham Women's NHS Foundation Trust
Improving Environmental and Social Sustainability
Barts Health Trust
Cambridge University Hospitals Foundation Trust
Mid Essex Hospital Services Trust
Nottingham University Hospitals Trust
South Essex Partnership University Foundation Trust
South of England Strategic Health Authority
West Middlesex University Hospital Trust
Innovation in Mental Health
5 Boroughs Partnership Foundation Trust
Barnet, Enfield and Haringey Mental Health Trust
Big White Wall
Central and North West London Foundation Trust
East London Foundation Trust
Lincolnshire Partnership NHS Foundation Trust, Lincolnshire County Council & Shine Mental Health Support Network
Manchester Mental Health and Social Care Trust
Midland Heart
South Staffordshire and Shropshire Healthcare Foundation Trust
Tees, Esk and Wear Valleys Foundation Trust
Managing Long Term Conditions
Central London Community Healthcare Trust
Derby Hospitals Foundation Trust
Dudley Clinical Commissioning Group
East Midlands Ambulance Service Trust
Great Ormond Street Hospital for Children Foundation Trust
Kernow Clinical Commissioning Group
Liverpool Community Health Trust
Outer North West London Integrated Care Programme
Pennine Care Foundation Trust
Portsmouth Hospitals Trust
Patient Safety
Great Ormond Street Hospital for Children Foundation Trust, Earlier identification and escalation
Great Ormond Street Hospital for Children Foundation Trust, Reducing prescribing errors
Great Ormond Street Hospital for Children Foundation Trust, Reporting critical incidents
Heart of England Foundation Trust
NHS Health Education England
NHS Lothian
St George's Healthcare Trust
UCL Partners
University College London Hospitals Foundation Trust
West Suffolk Foundation Trust
Primary Care and Community Service Redesign
Birmingham Community Healthcare Trust
Care Plus Group
County Durham and Darlington Foundation Trust
Erewash Clinical Commissioning Group
Liverpool Heart and Chest Hospital Foundation Trust & Knowsley Clinical Commissioning Group
Macmillan Cancer Support
Northumberland Clinical Commissioning Group, Northumbria Healthcare Foundation Trust & Northumberland County Council
Oxford Health Foundation Trust
Royal Free London Foundation Trust
Wandsworth Clinical Commissioning Group
Primary Care Innovation
Care Plus Group
Cornwall Partnership Foundation Trust
Derbyshire Community Health Services Trust
East Midlands Ambulance Service Trust
Leeds Community Healthcare Trust
Salford Health Matters
United Lincolnshire Hospitals Trust
Walsall Clinical Commissioning Group
Wirral GP Commissioning Consortium
Provider Trust of the Year
Northumbria Healthcare Foundation Trust
Oxleas Foundation Trust
Salisbury Foundation Trust
Southern Health Foundation Trust
The Christie Foundation Trust
University College London Hospitals Foundation Trust
Quality and Productivity
Derby Hospitals Foundation Trust
East Cheshire Trust
East Midlands Ambulance Service Trust
Greater Manchester Commissioning Support Unit
Housing21
Salford Health Matters
Sheffield Clinical Commissioning Group
South Warwickshire Foundation Trust
The Newcastle upon Tyne Hospitals Foundation Trust
Secondary Care Service Redesign
Derby Hospitals Foundation Trust
Health & Social Care Information Centre
Liverpool Heart and Chest Hospital Foundation Trust & Knowsley Clinical Commissioning Group
Northumbria Healthcare Foundation Trust
Oxford Health Foundation Trust and Oxford University Hospitals Trust
Sandwell and West Birmingham Hospitals Trust
Southend University Hospital Foundation Trust
Surrey and Borders Partnership Foundation Trust
University Hospitals Bristol Foundation Trust
Staff Engagement
Birmingham Women's Foundation Trust
Bridgewater Community Healthcare Trust
Ipswich and East Suffolk Clinical Commissioning Group & West Suffolk Clinical Commissioning Group
North East London Foundation Trust
Nottingham CityCare Partnership
Oxleas Foundation Trust
The Christie Foundation Trust
Walsall Healthcare Trust
Wrightington, Wigan and Leigh Foundation Trust
Workforce
Barts Health Trust
Birmingham and Solihull Mental Health Foundation Trust
East Kent Hospitals University Foundation Trust
East London Foundation Trust
North East London Foundation Trust
Nottinghamshire Healthcare Trust
Portsmouth Hospitals Trust
Sandwell and West Birmingham Hospitals Trust
United Lincolnshire Hospitals Trust
Compassionate Patient Care
To be announced on 6 September