HSJ has launched a new area for healthcare innovators to talk about their work and share ideas.
The HSJ Innovation Network aims to foster discussions and help spread new ideas and emerging best practice.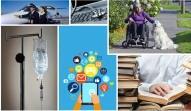 The network will feature Q&As with NHS innovators, blogs on emerging ideas and projects, plus podcasts and videos. Readers can also join the HSJ Innovators LinkedIn group and join the debate on Twitter with the hashtag #HSJInnovation.
The network follows HSJ's Innovation Summit this year, at which there was a near-unanimous consensus on the need for discussion to go beyond the summit.
HSJ editor Alastair McLellan said: "The summit attendees wanted us to take a lead on this so my pledge was that HSJ will launch an innovation network to continue the conversation."
The network launches with a Q&A with pioneering GP Dr Amir Hannan, whose practice was the first to offer patients access to their full electronic records; and Paul Wicks of PatientsLikeMe offers a guide to the online tools and techniques that improve patient experience.