New section is home of UK health policy debate
HSJ has launched a new online Comment hub.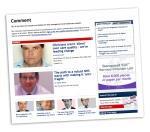 www.hsj.co.uk/comment is the home of UK health policy debate and features writers from all levels of the service, from trainee medics to ministers, across both sides of the public and private sector divide.
Online now, former natonal director for older people David Oliver fires back at CQC chair David Prior's recent article which claimed there was a "deafening silence" from clinicians on variable care quality. While consultant Robert Royce says the NHS is sent into a panic at the slightest mishap.
To contribute an article, email a precis to comment editor Andy Cowper at HSJComment@emap.com.
Registered users of hsj.co.uk can leave comments on all articles, and you can join the debate on Twitter @HSJNews.