Full findings from the Dr Foster Hospital Guide and the rest of today's news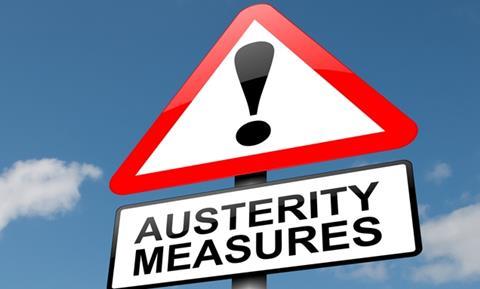 Illustration depicting a road traffic sign with an austerity concept. Blue sky background.
Dr Foster Hospital Guide is launched
It reveals district generals are the NHS's most clinically efficient hospitals
NHS's financial squeeze set to last for decade
1.10pm A new patient engagement model has been piloted by Blackburn with Darwen Teaching Care Trust Plus. The pilot looks at how collaboration between clinical commissioning groups and academic institutions can help CCGs maintain the patient and public involvement. For Lancashire-wide work, eight CCGs could save an estimated £120,000, based on eight individual CCGs making a 15% saving on a £50,000 contract.
10.46am Press Association has covered another aspect of the Dr Foster report. It reveals how death rates at 12 hospital trusts in England were alarmingly high last year.
10.45am The financial squeeze facing the NHS is set to last for a decade, according to a report by the Nuffield Trust. By 2021-22, the health service could have a £44-£54bn black hole if it fails to hit unprecedented productivity targets, or if health funding does not increase faster than inflation, the independent health research body said.
10.44am District general hospitals are the most clinically efficient in the NHS, a study reveals. Health analytical company Dr Foster ranked the efficiency of England's hospital trusts for the first time, using 13 separate measures. The full findings on efficiency measures, set out in the Dr Foster Hospital Guide, are analysed exclusively in HSJ today.
The financial pressures on the NHS mean that it is no longer enough to simply look at the quality of care provided by our hospitals, writes Dr Foster's Roger Taylor.