The HSJ Pathology seminar returns this autumn to share critical insights on meeting the challenges faced by commissioners of pathology services.
Taking place in central London on 18 November, the event, in association with Roche, will explore the pressures affecting providers and commissioners in pathology, as well as discussing future courses of action.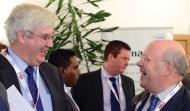 Sessions will include discussions on how pathology services can be commissioned in a smarter way; how competition works in this market and its impact; how the Transforming Pathology Partnership has progressed, with practical guidance on improvement areas; and the most effective strategies for implementing personalised healthcare.
Delegates will also be able to participate in a Q&A panel debate, chaired by HSJ editor Alastair McLellan.
The free to attend event is suitable for anyone providing or commissioning pathology services, chief executives, directors of finance, pathology leads, heads of pathology, directors, clinical directors, procurement leads, CCG leads and GPs. Proceedings will be reported in HSJ and on hsj.co.uk.
Places at the seminar, at the Cavendish Conference Centre from 12.45pm to 5.20pm on 18 November, are limited and are booked on a first come first served basis.
To apply to attend, email Juliet Cavanagh-Eyre at juliet.cavanagh-eyre@emap.com. Please do not book your travel arrangements until your place has been confirmed.