Clinicians, patient leaders, policymakers and managers are among the names on HSJ's second Top Innovators list, revealed tonight at an event in central London
The 50 people on the list include Dr Mark Newbold, the chief executive of Heart of England Foundation Trust; Olivia Butterworth, head of public voice at NHS England; student nurse Laura Cleverly; and patient advocate Michael Seres.
The list, supported by Bird & Bird, recognises, people whose ideas and leadership have changed ways of working, those whose work has fostered and led to more innovation, and people who have given inspiration to others.
The names were announced by HSJ editor Alastair McLellan.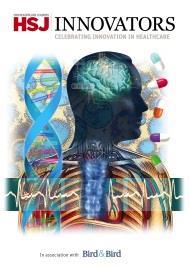 He said: "What we are therefore publishing here is not necessarily the 50 greatest innovations in healthcare, nor even the 50 greatest innovators in the NHS. That would be an impossible task, not least the notion that you could distil such a list down to as few as 50 people.
"No, what we are presenting here is simply 50 great examples of innovation, from people who have had a light bulb moment through to those whose work over many years has revolutionised how challenges in healthcare have been tackled.
"Our list, we're pleased to say, is diverse, encompassing everything from top flight clinicians at the leading edge of their research fields through to frontline staff, patients, managers and simply free thinking spirits, from within and outside the NHS."
The 50 names were chosen from a longlist, who were nominated by HSJ readers online. Continue the discussion on Twitter using #HSJInnovators.