A pilot project in Oxfordshire has successfully integrated research into routine clinical care, explain Andrew Molodynski and colleagues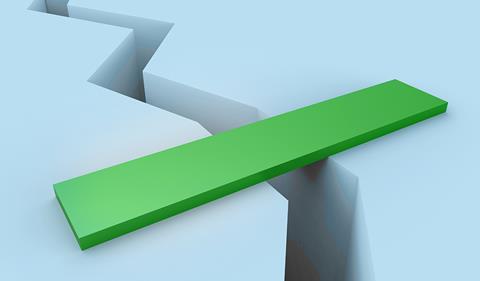 As in many areas of health and social care, local mental health services such as Oxford Health Foundation Trust have experienced challenges when seeking enough suitable candidates to work in support roles for community mental health teams.
'Recovery intervention workers assist in the promotion of recovery through supporting service users in activities of daily living'
At the same time, research assistant posts at the university are viewed as highly desirable and are generally taken by psychology graduates who want to pursue clinical training.
The combination of local issues and national drivers led to the development of a role that incorporated both research and clinical practice.
A new role
The new role of recovery intervention worker/research assistant aims to:
reduce the gap between research and practice by providing a permanent research presence within clinical teams;
increase community mental health staff's knowledge and awareness of ongoing research projects that might benefit service users;
allow for time limited employment of very highly motivated and skilled staff (generally those with psychology degrees) to assist care coordinators in individual patient care (lack of experience was in some ways considered a positive attribute); and
improve the opportunities of career enhancement for the workers themselves.
A recovery intervention worker provides flexible, patient centred support and low intensity psychological interventions to service users who are under the care of community mental health teams. Interventions include face to face cognitive behavioural therapy, psycho-educational groups and guided self-help.
Recovery intervention workers assist in the promotion of recovery through supporting service users in activities of daily living, social needs, accessing education or employment support, and liaising with mental health professionals where necessary. They work with 10 service users at a time and are closely mentored and supervised by a trained care coordinator.
The new role is varied in nature but generally involves conducting the "groundwork" of research, often acting as a liaison between academics and mental health services.
The process
Both the medical director of the health trust and the head of the Oxford University department were extremely supportive of an intervention that was "cost neutral" in the local health economy and could potentially deliver added benefit to patient care, research practice and recruitment.
A community mental health team with vacancies was identified. The staff were consulted and two part-time roles were created on paper with person specifications and full job descriptions, including arrangements for supervision and clinical governance. At this stage the main issues were:
human resources and contractual issues;
some isolated local issues around acceptability of the change (though the clinical staff the new employees would be working with day to day were genuinely positive); and
difficulty obtaining specialised supervision from the psychology services.
The overall process from conception to enactment took approximately three months, with most of this being due to contractual and local implementation issues.
Teething problems
As there was no existing framework for these new roles, defining the remit of work within the mental health team was challenging. This led to some unusual referrals and reluctance among practitioners to refer their patients to research intervention workers. However, this issue quickly subsided with familiarity.
It was difficult to find appropriate supervision, particularly for psychological support, due to constraints in psychological resources and a feeling from those managing these services that this was not part of their role. Receiving psychological supervision was important for the workers to feel confident in their skills and their knowledge to apply them.
While care coordinators within the teams provided supervision, the provision of psychological support could enhance the personal development opportunities of these roles.
Measuring outcomes
It was important to measure the effectiveness of the interventions delivered. Three self-report scales were administered:
One clinician rated scale, the personal and social performance scale, was also used. This is a well validated scale of general social and occupational functioning.
Data was collected at baseline and at the end of the intervention. An anonymous evaluation form was also used to discover the opinions of staff and patients on the usefulness of the roles.
The progress of this pilot scheme for both research intervention workers at six months are presented below (see box below).
Progress of the research intervention workers pilot
Number of referrals 34
Average number of sessions per patient 10
Interventions delivered
Guided self-help
Support work
Low intensity cognitive and behavioural therapy
Symptom management
Techniques used
Psycho-education
Activity scheduling
Thought challenging
Behavioural experiments
Graded exposure
Additional work completed
Administrative tasks for research project within team
Co-facilitating an anxiety management group
Completing referrals to other services and facilitating patients' attendance at these
Benefits
With the exception of the ongoing issue of psychological supervision, all initial teething problems were resolved and some local flexibility has allowed for some specialised supervision on a case by case basis.
In addition to the anticipated advantages of these roles, significant further benefits have become apparent.
Case study
I am a 37-year-old male. My illness began in 2000 during the second year of a BA in fine art, causing me to terminate the course. The invasion of negative voices in my mind rendered me paralysed by confusion, fear and disorientation. Not being able to hear yourself think is a very disturbing experience. Since its beginning I have had contact with a doctor once every three months and a care coordinator once a month. I began contact with a research worker in August 2012 and went out for a walk amid the crowds. The worker helped me get over some of the disturbances that have plagued me, with a psychosis workbook aiding my understanding towards a less paranoid view of my existence. I am now much better off due to the time spent with him. Most helpful all round.
First, a self-managed caseload has allowed workers to plan individualised interventions at patients' homes and a reduction in administrative burden has reduced time constraints.
This has allowed for substantially increased levels of patient contact and interventions have been delivered that would otherwise not have been possible. A number of patients therefore received interventions that they would not other have received without the new workers.
Second, the presence of workers in the community teams also working in research services has increased interest and understanding among the core staff; there has been substantial cross fertilisation of ideas and enthusiasm.
Pilot extended
Due to the positive experiences of patients and staff, the decision has been taken to extend the pilot scheme's time and scope, with workers being embedded in all adult community mental health teams in Oxfordshire.
The pilot has shown that the creation of attractive posts for highly motivated individuals with unused skills significantly improves inter-agency and team functioning and, most importantly, improves patient care.
Dr Andrew Molodynski is consultant psychiatrist, Cate Anderson is research assistant at the adult mental health team, Alexandra Forrest is research assistant at the department of psychiatry at Oxford University and Jackie Thomas is head of adult community mental health services at Oxford Health Foundation Trust