Mapped: Candidates for health economy 'special measures'
Whole health economies could face intervention for poor performance under a new approach proposed by the NHS national bodies, under the NHS Five Year Forward View. It could potentially include a "special measures" approach to areas with serious problems.
The document said the NHS national oversight organisations would together develop "a whole system, geographically based intervention regime". At present, NHS England, Monitor and the NHS Trust Development Authority focus their performance and intervention regimes on individual clinical commissioning groups and providers.
While legislation requires these organisations to deal with specific organisations - and this will continue in some form - the bodies have now decided to focus on whole systems. It is understood this may entail a "special measures" style designation for areas with severe problems.
The forward view said national bodies would "work together to create greater alignment between their... regimes". It added: "This will include more joint working... to develop a whole system, geographically based intervention regime where appropriate."
HSJ analysis has identified 15 areas where commissioners and providers have multiple serious problems, making them candidates to fall into a proposed intervention regime for whole health economies.
The areas have been identified with indicators of major finance, care quality and performance problems across clinical commissioning groups and their main acute providers.
Dave West
Full coverage and analysis of the five year forward view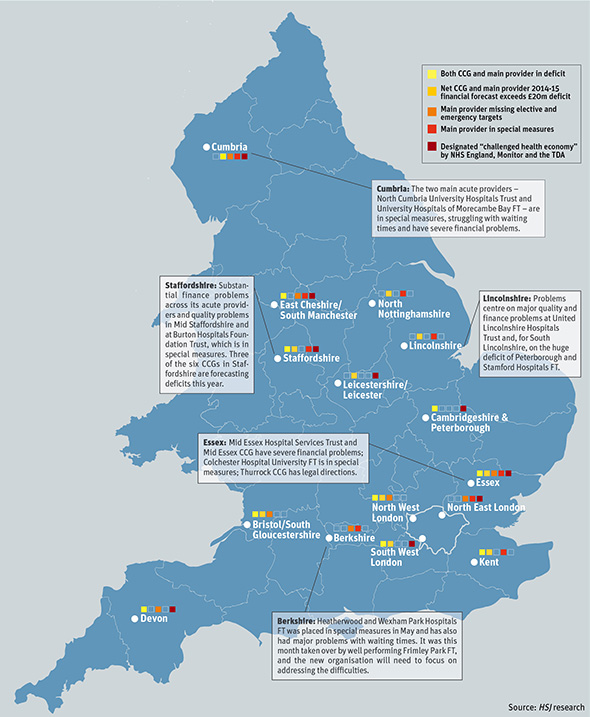 The analysis is based on HSJ research. "Both CCG and main provider deficit applies" in a health economy where at least one CCG and at least one of its main acute providers have a deficit, either forecast in 2014-15 or recorded in 2013-14. "Net CCG and main provider 2014-15 financial forecast exceeds £20m deficit" applies where the combined net forecast 2014-15 end of year financial position of at least one CCG, and one of its main acute providers, is a deficit of £20m or more. "Main provider missing elective and emergency targets" Applies where at least one of the main acute providers missed both the flagship accident and emergency and elective waiting time targets, in either Q4 2013-14 or Q1 2014-15. "Main provider in special measures" applies where at least one main acute provider is in regulatory special measures. "Designated 'challenged health economy'" applies where all or part of the area was announced in February 2014 as one of 11 "challenged health economies" by Monitor, the TDA and NHS England. HSJ's analysis of the health economies has also taken into account the depth and spread of the above issues.