The Care Quality Commission must do more to improve the consistency of its judgements, the chief inspector of hospitals has said. He spoke after it emerged a leading London teaching hospital successfully challenged the regulator's plan to issue it a warning notice.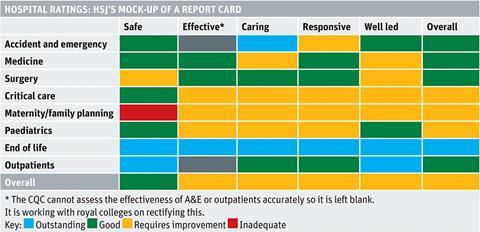 HSJ's mock-up of a hospital report card
Speaking exclusively to HSJ, Sir Mike Richards admitted the CQC had downgraded a planned warning notice to University College London Hospitals Foundation Trust to a less serious "compliance action".
He said this followed a "fair challenge" from the trust that highlighted one of the regulator's biggest difficulties: ensuring consistency of judgement.
Sir Mike spoke to HSJ ahead of the publication of a report into the first wave of 18 hospital inspections under the regulator's new regime.
He also revealed:
details of how the regulator's new ratings will be presented to the public;
that the CQC found an "unacceptably wide range of quality" in the 29 hospitals it has inspected so far;
the regulator's concern that many escalation wards could be unsafe; and
his view that there needs to be a consensus over the use of "do not resuscitate" forms.
Under the new inspection model an average sized trust can expect to be visited by a team of about 30 inspectors and practising clinicians to review eight core services, including accident and emergency and maternity. Each service will be given an individual rating, from inadequate to outstanding, against five key questions: are services safe, effective, caring, responsive and well led.
The CQC has discussed presenting these ratings in a colour-coded grid designed to help the public see at a glance the strengths and weaknesses of each service.
The regulator will then aggregate the ratings to produce an overall score for each service, as well as for individual hospitals and the trust as a whole if it runs more than one site. If a hospital rates poorly on two or more of the questions, the service will usually be rated as "requiring improvement".
However, Sir Mike said the CQC would not be "driven exactly by numbers and an algorithm", instead using "judgement" when deciding the overall service rating.
'We've got a process that is a great deal more robust and reliable and fair than anything we've had before'
He added: "Am I confident of our overall assessment of a trust? Yes… we've got a process that is, broadly speaking, a great deal more robust and reliable and fair than anything we've had before."
The ratings for the three trusts in the first wave that volunteered to be rated have been shared with the organisations and are published today.
Sir Mike said the inspection teams had found "an unacceptably wide range of quality" between hospitals and a similarly wide range within hospitals.
He said that critical care services had the most consistent high quality overall, while A&Es were regularly the service with the most problems, with many having inadequate staffing.
He said he was particularly concerned about the safety of "escalation wards" that many trusts had opened to ease winter pressures.
"They often have quite high levels of bank or agency staffing, and it takes time to get a ward – a team – working effectively as a whole ward," he said.
Sir Mike said there were three areas in which a national consensus needed to be reached for the CQC to be consistent in its judgements: the completion of "do not resuscitate" forms; how the use of the World Health Organization surgical checklist was audited; and the use of whiteboards to record information about patients.
He said he sought public debate about whether whiteboards were "good in terms of promoting patient safety and good care" or "a terrible breach of confidentiality".
Sir Mike said the use of the WHO surgical checklist had been the issue at the heart of the disagreement with UCLH.
He said the CQC had decided against issuing the warning notice because the trust had done the right thing by completing a "high quality audit" into the checklist's completion.
The regulator could therefore not be sure the trust was any worse than other hospitals it had inspected that had not audited the checklist to the same standard. "The point that 'were we being consistent?' was well made [by UCLH]," Sir Mike said.
"It does not mean that I think they couldn't do better. They should do better and we will go back and make sure they are."
He added that the CQC was working to improve consistency through the training given to inspectors, by moderating reports using a national quality assurance group, and by "standardising what we mean by good" for each service.
In addition to ensuring consistency, Sir Mike identified report writing as an area in which the CQC had to improve. "If you ask me 'have we got report writing right yet'?, I would say 'no, we are on a learning curve'," he said.
Richards: CQC must improve inspection consistency
1

Currently reading

Richards: CQC must improve inspection consistency

2

3