Seven out of 10 NHS trusts rated by the Care Quality Commission under its new inspections regime were found to be inadequate or requiring improvement, an HSJ analysis of published ratings reveals.
Sixty-eight per cent of the 47 trusts whose ratings are already released received scores at the bottom half of the CQC's four point scale. Five were found inadequate, 27 required improvement, 14 were good and just one was outstanding.
The results in part reflect the CQC's early focus on trusts at a higher risk of providing poor quality care.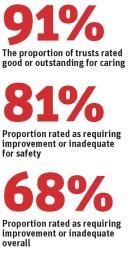 A number of other clear themes emerged. An analysis of five key inspection areas indicates trusts performed best in the caring category, with 91 per cent of the 47 rated as at least good.
However, providers performed worse on safety, with 81 per cent rated as requiring improvement or inadequate. In the responsiveness rating, which assesses waiting times and how well trusts react to patients' needs, 68 per cent were rated as requiring improvement or inadequate.
Five trusts have so far been rated inadequate overall by the CQC. They are:
Heatherwood and Wexham Park Hospitals Foundation Trust;
University Hospitals of Morecambe Bay Foundation Trust;
Tameside Hospital Foundation Trust;
Medway Foundation Trust; and
East Kent Hospitals University Foundation Trust.
Of these trusts, four are forecasting substantial deficits this year with only East Kent expecting a surplus.
However the link with financial performance does not appear clear cut, with some trusts in difficulty receiving good ratings.
Basildon and Thurrock University Foundation Trust and George Eliot Hospital Trust are both forecasting deficits this year but received ratings of good.
The analysis suggests a link between trust ratings and the results of the NHS staff survey.
On average, 52 per cent of staff at the five trusts rated inadequate would be happy with a friend or relative receiving the standard of care provided by their employer. This compares with 58 per cent at those requiring improvement and 66 per cent at good providers.
Eighty-five per cent of staff at the only provider rated outstanding to date - Frimley Park Hospital Foundation Trust - would be happy with a friend or relative receiving the standard of care provided by their employer.
Michael West, a health services workforce expert at Lancaster University Management School, said the apparent correlation was "encouraging".
"What it does suggest is the validity of the CQC process; that what [the] CQC is assessing during the course of its inspections, or how they're assessing it, is picking up something that staff are seeing as well," he said.
Saffron Cordery, director of policy and strategy at the Foundation Trust Network, hailed the hospital sector's performance in the caring category: "It's important given the Francis report and what happened at Mid Staffs, where we were talking about the quality of care. The notion that now we are seeing no trusts have been marked inadequate around caring is a fundamental step forward."
The CQC declined to comment on HSJ's findings.
A spokesman said: "The CQC's state of care report to be published in October will set out the regulator's considered analysis of the hospital ratings awarded so far."