A team from HSJ's parent company Top Right Group has successfully scaled Kilimanjaro for the Great Ormond Street Hospital children's charity - and have raised almost £50,000 in the process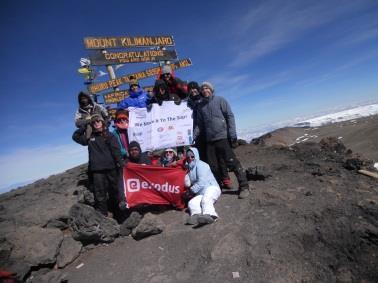 The team reached Uhuru Peak - the highest point in Africa - at 9am on 10 October.
The team unfurled a flag at the summit to thank its most generous sponsors.
These included: Helly Hansen, Hoare Lea Lighting, Michael Grubb Studio, Fitbit, ISG, Lighting Design International, Patra, Photometric and Optical Testing, SAS and Company, Select Motor Racing, Sequel Guess and Speirs + Major.
Team member Ben Cronin said: "The team had heard all the stories about how hard it is climbing at high altitude, and trained accordingly, but we still felt completely unprepared for the physical challenge – climbing the mountain was the equivalent of wading through treacle while breathing through a straw.
"We all agreed that the seven hour ascent to the Kilimanjaro crater was the most physically demanding thing any of us had ever done."
So far, the team has raised £41,882 but still hopes to hit its £50,000 target.
Any donations will be gratefully accepted.