An overview of Sir Bruce's findings into the 14 trusts with the poorest mortality figures
Sir Bruce Keogh's review of patient care has asked Sherwood Forest Hospitals Foundation Trust to focus on care quality and safety of patients rather than "meeting Monitor [performance] breaches in finance and governance".
The review panel examining the trust highlighted an absence of a strong strategic direction, saying it had no "clinical or nursing strategy". This was confirmed by a number of nurses interviewed who stated they felt "wards worked in silos and no one had an effective umbrella role across the trust".
The probe found inadequate staffing and sustained failures to ensure adequate maintenance of estates and medical equipment at North Cumbria University Hospitals Trust.
Investigators saw medical equipment labelled as being past its servicing date and highlighted "concerns that over 1,000 maintenance requests were outstanding".
The Dudley Group Foundation Trust will carry out a review of staffing levels in response to concerns raised by the Keogh review.
When Sir Bruce's team reviewed the trust, its largest ward, which has 72 beds, had a ratio of just one registered nurse to 14 patients.
George Eliot Hospital Trust has been told to address concerns about patient safety and its "unsatisfactory" reporting of quality and mortality rates. The review said it was not clear "that there is sufficient focus on quality and patient safety".
However, it praised the trust's "engaged, passionate and loyal staff" and level of support from the public.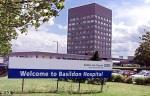 Basildon and Thurrock University Hospitals Foundation Trust has been told to take "urgent action" on clinical staffing levels.
The review team's report on the trust also said: "The systems for bed management and patient flows need to be urgently reviewed and improved." The document said the trust would be re-inspected in October.
A "lack of escalation procedures, inadequate staffing levels and disconnected leadership" were uncovered atUnited Lincolnshire Hospitals Trust.
The review found a disconnect between leadership at board and clinical levels and recommended a more joined up leadership approach. It suggests the trust should "focus on engaging clinical teams rather than specialties or separate professional groups".
The "lack of sufficient implementation of clinical strategies and effective clinical leadership" were the main areas of concern at Northern Lincolnshire and Goole Hospitals Foundation Trust.
The review pointed out the inadequate involvement of medical staff in redesigning services to address high mortality levels.
Staffing on some of East Lancashire Hospital Trust's wards was "insufficient to meet the basic needs of patients", Sir Bruce's team concluded. Overnight staffing levels on medical wards was a particular concern.
Burton Hospitals Foundation Trust has been placed in "special measures", and agreed to a series of improvement actions.
The Keogh review found "a lack of understanding among staff of the trust's quality objectives, governance structures and processes for quality and patient safety among staff", concerns about support for junior doctors and staff working for many consecutive days.
Colchester Hospital University Foundation Trust managers potentially put patients at risk by their "apparent lack of response to escalated patient safety concerns", the review said.
Sir Bruce's team said the trust needed to urgently address five areas including staffing of certain high-risk wards and clinical leadership.
Nurse staffing levels, inadequate supervision of junior doctors and insufficient access to critical care beds were cited as problems at Tameside Hospital Foundation Trust.
Sir Bruce's team called for "urgent action" to address problems with the clinical safety and experience of care the trust provided for medical and elderly patients admitted through the emergency department.
Medway Foundation Trust's board needs "greater pace and clarity of focus" on improving the overall safety and experience of patients.
The review found insufficient staffing levels, poor management of emergency admissions and that staff at the north Kent trust felt unable to raise concerns.
Nurse staffing levels were not always sufficient across Blackpool Teaching Hospitals Foundation Trust and needed to be urgently reviewed, particularly on elderly care wards, the Keogh review found.
The probe recommended that Blackpool "should adopt a policy of minimum safe staffing levels on all wards, monitor compliance with the policy" and run biannual formal establishment reviews.
It noted Blackpool had "recruitment challenges, particularly with regard to consultants and nurses" and called for the trust to identify "innovative" ways to recruit and retain staff.
Buckinghamshire Healthcare Trust staff described care provided by the trust as "unsafe", the report by the mortality review team revealed.
It said there was evidence that a lack of out-of-hours medical cover at Stoke Mandeville Hospital "led to delays in patients receiving essential treatments such as intravenous antibiotics and intravenous fluids".